BEWARE OF CABLE GUY!!!!!
Tom Cable is the perfect Raider.  After allegedly breaking Assistant Randy Hanson's jaw in an argument last August, more disturbing accounts were just uncovered last week, documenting Cable's violence towards women.   Cable's ex wife and ex girlfriend both told ESPN about alleged abuse doled out at the hands of Cable, and they have the paperwork to prove it.  Additionally, his 2nd wife, while declining an interview with the network, did file in official court documents abuse allegations.  That's 4 people that we know of, with paperwork and/or photos and hospital bills to prove his onslaught.
The National Organization for Women is calling for the NFL to suspend Cable.  Although I admittedly have never been a fan of NOW, it's hard to admit they don't have a case here.  After all, people's lives are at stake.  In fact, forget NOW, because its not just women being attacked.  After his vicious attack on Hanson this August, it's clear we need an organization dedicated to all human rights.  I'd like to see Amnesty International or Green Peace get involved at this point. Hell, call in S.W.A.T, or the Marine Corps, because those may be the only forces strong enough to withstand Cable's fury, and protect the vulnerable. The NFL is now investigating Cable's alleged abuse.
Hanson told Napa police, "From my blindside, Tom Cable threw me from my chair and into a piece of furniture that a lamp sat upon," said Friday. "He was screaming, 'I'll (bleeping) kill you! I'll (bleeping) kill you!' And I have no reason to believe he wouldn't have killed me if they hadn't pulled him away."  He also said, "If my head would've hit a different way, I might be dead right now."
We're not sure if we have to put the word "allegedly" in this story describing the incidents, because there is quite a bit of recorded, documented evidence and paperwork to show Cable's abuse.
Faced with death or being benched, Wilson opted for the latter.
But seriously…what more can you say about Cable's impressive resume? Never before has there been a pedigree so deserving, a degree of symmetry so perfect between Coach and the organization and fan base. It's no secret that NFL teams have to hire increased security when they play the Raiders.  Maybe it's just because of Tom Cable.  But who could forget the news footage of a Pittsburgh Steelers fan being bloodied and left unconscious-and possibly for dead-in a game in 1990? What about several years ago, when a Raider fan and Charger fan got in an argument in a bar, and the Raider fan went Mike Tyson and bit his ear off?  What about the footage of a Raider fan stabbing a Charger fan?  I remember being at a game in the early 90's in which a large, muscular biker took on 2 gang bangers.  After initially losing the scrum, the gang bangers were able to wrap and tie the biker's long hair around a pole so he couldn't get away, and they got the upper hand and proceeded to bludgeon him.  Blood flowed profusely…and children screamed.
Fun for the whole family!!!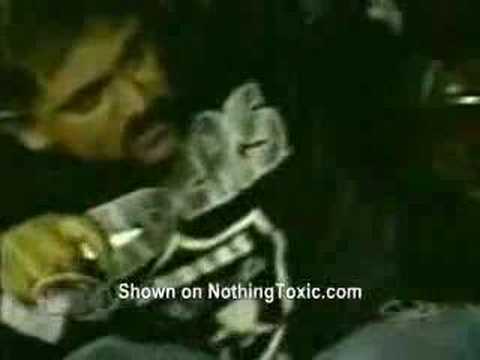 The only question is where is Cable's inner "yes man"?  Typically, abusers don't take kindly to orders.  That goes against the dominant-which is obviously Cable's role-in the dominant/submissive world Cable seems so perfectly involved in. As we know, the only way to keep a Raiders head coaching job, especially with continued exhibition of failure, is to be Al Davis's puppet.  So perhaps Cable does have a softer side.  A side where, after his team gets embarrassed in front of 50,000 prisoners/convicts/fans, he dresses up in a leather g-string and leather mask with a zippered mouth hole, and gets kicked in the scrotum by the Godfather in the white jump suit.  Plus, it's a release for Davis, as he gets to get out his aggression on the worst football team of the last 5 years.
This can be the only reason Cable is still under Davis's employ.  However, we welcome your theories.  Please post them below.