FALL CLASSIC? Our re-cap might be more entertaining
The stage was set….like many northeast bar fights of the past between two unreasonable and obnoxious fans….Philadelphia vs. New York…..Phillies vs. Yankees.  The wet dream for FOX had materialized. Would the matchup live up to its billing?  I give you a big, giant, veiny "affirmative".
Game One brought us shear dominance by Philadelphia's Cliff Lee in front of a rabid, ruthless and offensive New York mob, coupled with the throbbing wood of Chase Utley, as he bitch-slapped the giant C.C. Sabathia for two long ones.  Utley would get more than used to trotting around the bases on national television…by series' end, he would have a total a five, tying a mark set by Reggie Jackson in 1977…by the end of the night you could hear the shuffling of baseball analysts from coast to coast backtracking on their predictions.  The Yankees had been strolling through the park throughout the duration of the playoffs….only to have the Phillies run by and steal their purse, feel them up and leave them feeling dirty and ashamed.

If this diamond fist fight were to manifest to its expectations, the Yankee bats would need to awaken….and their bullpen would have to add the phrase "scoreless" to their vocabulary.  In baseball, it's awfully difficult to play catch up if you're bullpen can't subdue the opponent.  By series end, the Phillies would be facing the same dilemma.  Would the Yankees conjure up the strength to climb out of the sweaty, unshaven hole they'd found themselves in?  Luckily for the "Evil Empire",  the tatted up Burnett was stellar, the bats livened up and the overwhelming chant of "Who's your daddy" directed at a fluffy-haired Pedro all resulted in a Game Two Bronx victory.  The Yanks had managed to salvage a split in front of their home fans….allowing FOX to take a sigh of relief.  Speaking of FOX, how many advertisements for "The Box" did we have to sit through….we get it.  Cameron Diaz hits the button and then gets killed…..the only pleasure we derived from the eighteen thousand times we had to watch it was the fantasy of it actually happening to her.  Chick made a career out of a giggle….stop giggling!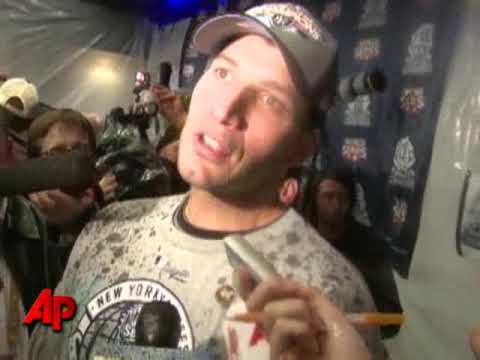 A travel day between games made fans of both teams sit in a pool of doubt regarding their best sluggers.  Ryan Howard and Alex Rodriguez had combined for 12 strikeouts in the first two games….and both knew the road to a world championship would require a wake up call from their inimitable wood cradlers, respectively.   Although neither sluggers would ever show any real offensive prowess, the few hits that A-Rod would get, seemed to always be at the worst possible moments for Philadelphia….showing us time and time again…in the playoffs, it doesn't matter how many hits your team gets, it's when they actually get them that translates into the sharpest dagger.  We had the opportunity to utilize the always controversial "instant replay" in Game 3 after A-Rod's opposite field drive off the right field camera….a home run was the result.  Despite the Yankees' Phil Hughes being, well, his playoff self and allowing a ninth inning home run to Carlos Ruiz, the Yankee bullpen actually returned to regular season form for one night and held down the mighty Phils.
Some criticism was lobbed in the direction of Charlie Manuel for not starting Cliff Lee on "short rest" and instead slotting Joe Blanton as the number four starter…however, given that we Americans have been lulled to the tune of coddling our pitchers arms', most of the doubt dwindled and took a back seat to the media's undying love for Charlie and his paper thin skin and graham cracker hips…get it?  He's old.
At one point, both benches were warned after A-Rod was plunked for the third time in two games.  Could this have been an elaborate scheme by Charlie Manual to take away the inside pitch from Yankee hurlers?  Doubt it.  If he were a genius, I'd say yes.  He's not.  I'll explain why in a future article.  Plus, it's not like it would have helped Joba Chamberlain….hey Joba!  Your job is to be a stopper….a heartless machine!  He often seemed like he was on the verge of tears out there….as did the relievers of both teams all week.  Anyone remember when Brad Lidge was literally unhittable?  It was only a year ago…we all remember.   However, those days are well behind us, and a new Brad Lidge is among us…an awful one.  Instead of relying on his devastating slider, this muttonhead resorted to throwing batting practice fastballs to the teeth of the Yankee lineup in an attempt to close out game 4……RESULT: Yankees score three in the ninth (all with two outs) to give Philly the baseball equivalent of "the shocker" (two in the…..well, you know).  Rivera slammed the door, and the Phillie fans just stood there with their pants around their ankles holding their wilted noodles…Lidge would never throw another pitch… they wouldn't even let him warm-up for the rest of the series….if I were him, I'd just go ahead and retire just from the embarrassment.

Even though the Phillies would win Game 5 and send everyone back to New York, I don't believe the Philadelphia players ever fully recovered from the heart wrenching loss.
With a travel day between games, it gave baseball fans time to realize the historic pitching matchup that would soon take place.  Andy Pettitte vs. Pedro Martinez….two pitchers with outstanding, lengthy careers…..pushing forty years-old….trying to muster up the ability to shut down a lethal opposition…or in reality, just hold them down enough to give their teams a chance to win.  Who would prevail?

Pedro's velocity was down, allowing Hideki Matsui to drive in four runs, including a towering shot into the second deck of the right field stands.  Hideki would later drive a ball off the right-center field wall for two more RBI's, giving him a total of six for the game, tying a world series record.  Andy Pettitte, despite an inability to consistently throw strikes, battled his way through five and two-thirds, allowing three runs.  A stellar Yankee bullpen performance followed…holding the Phillies to just two hits and zero runs for the remainder of the game.  A ground ball to second baseman Robinson Cano with Mariano Rivera on the mound ended the game, and the series.   The Yankee players were all smiles as they pretty much made out with each other on the infield grass…..knowing the ultimate goal had come to fruition.  Meanwhile, the all too familiar somber interview of the losing manager was taking place in the visiting clubhouse.  Charlie Manuel, who was obviously up way past his bedtime, spoke softly regarding the loss, while his nose leaked all over Ken Rosenthal.  Hey, can someone get this guy a tissue ????? Manuel was obviously disorientated throughout the entire series…especially this game.  I think at one point, I heard Old Man Manuel barking from the dugout for the neighborhood kids to get off his lawn.  Hey Charlie!  Were you even aware that you were at a baseball game???  This is the first time I've ever actually felt bad for a manager…I just want to hug him and feed him Jell-O.


All in all, this was a world series that won't be forgotten any time soon…..unless you're Jimmy Rollins (who batted just .217), Ryan Howard (.174) or Cole Hammels, who didn't even want to be there, according to his quote earlier in the series.  Hideki Matsui was given the MVP after batting .615….Derek Jeter batted .407…..Johnny Damon .364. The Yankees didn't dominate the Phillies…they just had a bit more timely hitting throughout the entire series.  Almost every time the Phillies hit a home run, no one was on base….that's Jimmy Rollins' job…didn't happen.  So, hey, what did we learn?  I would say absolutely nothing….this series brought us great, dramatic baseball….and some soft core porn, thanks to the Yankee players' post-clinch celebration.  Now pull your pants up and go watch some football.