The People's Elbow
Holy Sh$t!  Actually, its Holy Family, as in Holy Family University in Philadelphia. This was not the city of brotherly love on this day though, as now ex-coach of the basketball team, John O'Conner is seen here administering his own brand of punishment to a player, Matt Kravchuk.  And no, he's not the John O'Connor from the "Terminator" movies (actually that was John Connor), but he clearly terminated his player, and in so doing ultimately terminated his own employment.
After a failed attempt at reconciling with Kravchuk (who refused to accept his apology on Good Morning America) O'Connor resigned Thursday night.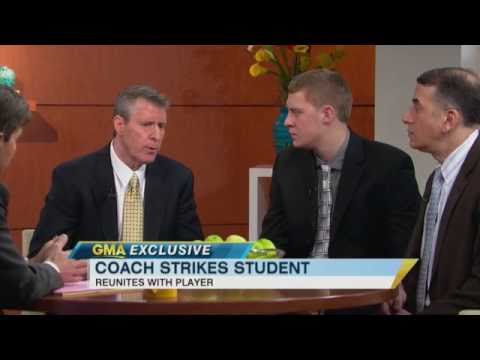 But who does O'Connor think he is?  Woody Hayes and Bobby Knight he is not.  But for the record, many of O'Connor's now ex-players and peers have defended him.  The reaction from Kravchuk in the footage also looks a bit dramatic, as it almost looks like Kravchuk falls back and reacts way worse than the contact would justify.  Clearly, O'Connor's kicking motion is weak and in no way could have hurt Kravchuk. Nevertheless, Kravchuk emerged from the incident with a bloody face and apparent wrist injury.
In a moral argument, coaches should never strike their players. However, if  they want to grab their facemask or slap their helmet to get them to wake up, I'm fine with that.  But one can't help think that Kravchuk's reaction looked like something mastered by the likes of Iron Mike Sharpe, Jose Luis Rivera, Or S.D. "Special Delivery" Jones, or "The Rock".  See below